So I thought I should do a little blog post on our time in South Africa. We were very lucky enough to visit three areas during our trip, this part is about Cape Town.
Saturday 6 September
8.30am and we were on out way to Jamie's mum and dad's out at Edgehead. The first part of our journey was Edinburgh – London. We had a little wait in Edinburgh airport so we had some beers and some pizza at The Gathering. It wasn't bad but boy was it busy. Scotland were playing Germany the next day so the airport was full of kilts, (we only lost 2-0, not to shabby!)
Our flight was British Airways, I like flying British Airways, a little cuppa goes a long way.
Once we landed in Heathrow we had around a 3 hour wait. Jamie's mum had packed some salmon sandwiches and treated us to two bottles of Moet champagne – well, start as you mean to go on I guess.
Our plane was a giant double decker jumbo jet and I'd reserved us a two seater upstairs. We had a little cubby-hole on the side, lovely big seats, entertainment system. It was pretty good, it would have been better if our arm rest could have gone all the way back and we could have snuggled properly to get some sleep but never mind. For dinner I went with the veggie curry, it smelt so good and to be honest it wasn't bad. They did run out of Heineken which was a little bit annoying. We didn't get much sleep on the flight, two hours maybe, just couldn't get comfortable. Maybe it's one of those things that come if you travel more.
At 7am Sunday we arrived in Johannesburg OR Tambo airport, said good bye to Jamie's folks (they were off to game view at Impodimo in Madikwe)
Sunday 7 September
We arrived in Cape Town at 1.30pm, 28 hours after we left the house – yikes! We had reserved a room at the Cape Town Lodge, mainly because we could use up some of our Avios points. Five nights B&B cost us £240 which wasn't bad at all.
As it was our first time we had arranged a pick-up from the hotel. Our driver was so nice in his suit with a framed sign 'Mr Simpson'. Our holiday had began. We got to our hotel about 2pm, showered and had a wander around. Almost all shops were close as it was a Sunday but we found a place called NomNoms and had some food. Jamie had ribs & chips, I had a pasta dish and a pint of Castle lager each.....it came to about £8. I think this was when we realised just how cheap it was.
I was asleep by 6pm, Jamie not much later.
Monday 8 & Tuesday 9 September
The V&A Waterfront has a lot of shops, restaurants etc, a bit like putting Ocean Terminal, The Gyle and Omni together. But with amazing views of the ocean and Table Mountain.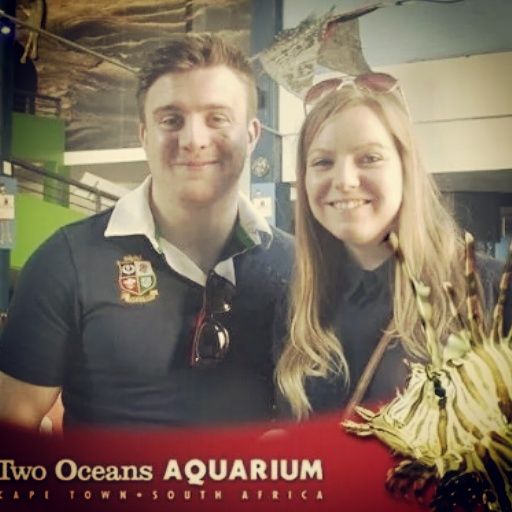 Firstly we went to Two Oceans Aquarium, it cost us R150 each (about £7) but it crapped all over Deep Sea World. It was really good, very interactive. And we got to see penguins being fed. This happens twice a day and so worth it. The penguins were literally 2ft from us.
Afterwards we went to the Springbok Experience. Jamie is a massive rugby fan and plays so it made perfect sense. The cost for this was R50 each (£4). It was more for Jamie but I had fun too. Again this had lots of interactive things to take part in, videos to watch etc. Worth it for any rugby fan or even just to pass a few hours.
During these we had stopped at the local 'Scottish' bar, Mitchelle's Ale House, this and their neighboring bar, The Ferryman, became regular 'to-go-to' places. I tried their 'Milk and Honey' beer which was lovely. I can't see this appearing at home any time soon as it only has a 7 day shelf life.
We then had a 'posh' lunch before returning for drinks & dinner. Our posh lunch was at Tasca I have never had such nice mussels before, they came in a creamy garlic and white wine sauce with a side of fries which quick swifty got dipped in the left over sauce. Jamie had the lobster, which I have to say was overpriced compared to other places in the area. Our two dishes and a bottle of wine was about £70. But you'd probably pay that in some places just for the lobster. Our view was amazing too.
On Tuesday I had pre-booked us a days wine tour with Luhambo Tours we were picked up by our guide Cedric at 9.00am and we didn't return till 5.30pm. Usually the maximum people on these guides is 7, we got very lucky and it was just the two of us. Cedric was brilliant too, we spoke about everything and anything, and I even got an email from him a week later about the Scottish Referendum.
We visited five vineyards and had around 36 wines and 14 cheeses. It was brilliant.
Simonsig in Stellenbosch
Fairview in Paarl
Kanonkop also in Stellenbosch
Boekenhoutskloof in Franschhoek
and one other in Franschhoek which I didn't catch the name of.
All the people in the vineyards were lovely, we weren't forced into buying anything or looked upon for not buying anything.
Before our last two vineyard we stopped for lunch at Roco - we had no idea what to expect but we were blown away. The view was stunning.
Jamie had ostrich and I had a chicken & pasta dish, along with a few glasses off wine (you'd think we would have had enough by now!!)
The total for our tour was R850 each (£53). It was so very much worth it.
We nipped out for some 'fast food', ribs & chips for Jamie, pizza for me and two cokes. Cape Town is strange place at night, lots of security around but also lots of beggars (even though they are polite about it). I wouldn't recommend walking about alone, even having a 70kg weight-lifting, rugby playing boyfriend in-toe it was still a little unpleasant.
Wednesday 10 September
We decided to go to Robben Island as Table Mountain was extremely cloudy. If, like me, you aren't schooled up on Robben Island 'Since the end of the 17th century, Robben Island has been used for the isolation of mainly political prisoners' – most notable would of course be

Nelson Mandela.
We booked our time slot for 1pm (advisable on busy days) and it was R250 each (£14). The boat journey across took around 50 minutes. Once of the boat we were taken around most of the island by mini bus – it's pretty big and you only have 2 hours.
Our first stops were things such as the church, the leper cemetery, the shop that the guards who lived on the island could use. Our first proper stop was Robert Sobukwe's cell. Sobukwe was kept in solitary confinement but permitted certain privileges including books, newspapers, civilian clothes, bread etc. He lived in a separate area on the Island where he had no contact with other prisoners. The only contacts were his secret hand signals whilst outside for exercise. Despite this he succeeded in giving his approval to the external PAC to adopt a Maoist political program. He studied during this time and received (among others) a degree in economics from the University of London.
It is speculated that the South African administration had profiled Robert Sobukwe as a more radical and difficult opponent than the regular ANC prisoners. Sobukwe was released in 1969. He was allowed to live in Kimberley with his family but remained under house arrest. Kimberley was suggested as an area where he could not easily foster subversive activities and also a place where he could live and work, while being easily monitored by the state. He was also restricted through a banning order, which disallowed political activities.
Sobukwe died in 1978 from lung cancer.
Next we stopped at the limestone quarry where the prisoners would work for 8 hours a day, 7 days a week. The prisoners with an education, some lawyers, some teachers, would also teach those in a small 'self-made' cave. The prisoners had a saying during this time 'each one, teach one'
At the top of the limestone quarry there is a pile of rocks – you may not think of this as sentimental unless told. This pile of rocks was started by Mandela, he wandered off during a reunion around 1200 ex detainees and placed a rock, the rest followed.
We stopped on at the Lighthouse after this for some photo ops, amazing views of Cape Town from the Island – I can't imagine what it must have been like seeing land so far from reach. Some prisoners never had visits from family members, some didn't know how to visit, others just didn't know where their loved ones were.
We were then taken to the main prison and given a talk by a guide. Our guide had actually spent time in the prison himself as a youth. He wanted to make it VERY clear that not all the guards were brutal and that there were some nice ones.
Lastly we got to see Nelson Mandela's cell. He spent 11 years on Robben Island and in this cell. The cell couldn't have measured more than 6x4. It felt a little wrong being there but they are trying to promote it as a place of peace, courage, determination, strength and good.
Our journey back was choppy and we got soaked!!
We headed back to our hotel, showered and went back down to the Waterfront. Dinner was flatbread, a prawn and chicken basket, loaded potato skins & chips at Ferrymans. Yum.
That evening there was live music and the guy was was great. Lots of covers, lots of classics. I had a few mojitos in jam jars, beer, Sky vodka. A good night.
Thursday 11 September
Today was our last day so we took the chance and headed to Table Mountain......the cableway was closed!! We still had amazing views but it would have been great to get to the top. Always next time.
Afterwards we headed to the V&A and went to a restaurant called Belthazar's (the best Steak restaurant in Cape Town) Jamie made the right choice and went for a 450g steak, I went for mussels again. These weren't as good and almost made me throw up at one point. The sauce was good as were the fries for dipping.
We went back to our hotel and had a nap before our last dinner at Ferrymans. Burger & fries, ribs, wings & fries, 5 beers, mojito and a sky vodka - £34! Insane.
We headed back to pack the rest of things for our 9.00am flight the next day and watched Despicable Me for the 3rd time. Next stop – Madi a Thavha, Limpopo.