Friday 12 September – Tuesday 16 September
We arrived in Johannesburg airport to meet Jamie's folks around 11am, whilst we were waiting I had my first Wimpy, remember we used to have those?! I was pretty delicious, although having table service at a fast food restaurant was odd. Yesterday had been the verdict of the Oscar
Pistorius trial. Newspaper headlines 'Oscar May Walk', 'Could Oscar Walk?' Headlines we'd never get away with in the UK.
From Johannesburg airport we drove 450km to Madi a Thavha, which is 5km out of Louis Trichardt. We arrived around 6pm, just as the sun was setting, it's pretty spectacular.
Dinner was prepared at 7pm and it was delicious. Our starter was smoked chicken orange segments, although the orange was a little bitter, almost like a grapefruit but not quite. Our main was beef in a sauce (don't ask me what), roasted veg and potatoes individually roasted with cream and garlic. Pudding was baobab cheesecake, which I may have nicked the recipe too.
There was also rye bread, red wine, rosé wine and it was all amazing.
We went up for breakfast 8.30.
Breakfast was 3 courses, yogurt, muesli and fruit followed by pancakes with creme cheese (not like ours) and cinnamon, rye bread & muffins, THEN eggs, bacon, sausage, tomato and toast. Also tea, coffee and orange juice. Just unbelievable.
Jamie's mum and I are going to a craft day out tomorrow so we had a look around the little shop. Madi a Thavha stocks items from local crafts-folk, everything is fair-trade with 100% going back to the people. Some lovely place mats etc but a bit wasted on us when we don't have a dining table yet.
After breakfast we headed to Louis Trichardt to the local shops and picked up some wine, lunch and we managed to get some Fairview cranberry cheese. I am definitely going to look on line to see if there is anyway we can get it here.
Jamie and I went for a walk around the reserve after lunch. We seen some turtles, frogs, a erupting spiders nest and Jamie almost stood on a Rock Python – not scary at all. There was lots of animal poo but sadly/thankfully not any animals.
Afterwards we had some 'sundowners', sparkling rosé, olives and cranberry cheese, and we had a look at each others photos from earlier in the trip.
Dinner was butternut squash soup, Thai chicken curry, and pear panna cotta. Again, it was superb.
Today was our craft day out and we were taken to see 5 different people by our guide Musa.
We started in Louis Trechanrdt where he drove us around one of their typical town-ships. There were a real mix of 'rich' houses and what the refer to as 'Mandela Huts', what we would refer to as Social Housing. The difference being that people in the local community help build these huts for each other. People pay for their electricity, water and sewage only. The good thing about these is if the owner then gets a job or they earn more money, they can expand on their huts and make them bigger.
There is still a lot to be done here but it's getting there. Jamie's folks have been going for 20 years so it must be interesting to see the changes.
Next we went to one of the local markets, most people were selling fruit & veg. A bag of avocado would be about R20 – about £1.30, we pay that for two at home. I hope the profits go back to the seller but knowing large supermarkets probably not. We were taken to a small take-away which was selling cooked cows head (teeth and all) and a full chicken c
arcass. Thankfully (without offense) we weren't asked to try anything.
Our first visit was to a chap called David who is a wood carver, all his work is traditional. Jamie's mum picked up some salad servers which were lovely (R90 each) but a lot of it, whilst nice, wasn't to my taste. His work looks great in the lodge where we were staying, and is Jamie's mum & dads house but ours just doesn't have the right look.
Next we went to see an old lady named
Hlamarisa. I'd say at a guess Hlamarisa is about 70 years old. She was born with what I think was a curved spin which over time has worsened. These days something like this would probably be treatable but that long ago there would have been no chance. She does traditional bead work, which was very detailed and very nice. However, personally I felt her family were just wheeling her out to make money. Her daughter-in-law came out with a suitcase filled with items to buy, we watched her do some bead work for about 5 minutes, were shown some pictures then it was awkward silence as they waited for us to buy something.
Jamie's mum bought me this lovely wood & beaded basket which they asked R500 for, which works out about £30. In itself it isn't much but it would have been interesting to see prices on her items in the lodge. She did give me a little red beaded bracelet as a gift which was nice.
After we stopped at a maize mill where woman meet to clean, grind and packet up their maize. All the ladies were working as a team to help each other out and that was lovely to see. We then stopped for our (HUGE) packed lunch at Musa's grandma's house.
After lunch we had three more stops, first was Mukondeni Pottery. This is a cooperative set up for women in the area which I believe was part funded by the Scottish Government (I will need to check my facts on that though). This was built to give the woman somewhere cool to work as working outside, temperatures can sometimes reach 40c+ in the Summer. We were given a pottery demonstration by the lady who happened to be there. It was a Sunday so many people were at Church. It was interesting to watch her make the pot, it probably took her less than 5 minutes, no turntable, just her hands and some pieces of plastic to smooth it down.
We then went to see the second wood carver Thomas. His work is more abstract. He will look at a piece of wood and decide what it should be. He had some massive pieces carved from one piece of wood, just spectacular. This man has a very special mind.
Lastly we went to see a lady who does embroidery and bead work. This was definitely 'saving the best till last'. Her work was superb. We met her daughter who was sticking and stitching the panels of material to make the main part of a cushion. Later her mother would add in contrast colour stitching, beads and embroidery to each panel. The colours were brilliant, so vibrant. Jamie's mum picked up a bright green cushion which she'll probably have framed. She bought Jamie and I a tapestry which we'll have framed for our new house and I bought us a cushion cover.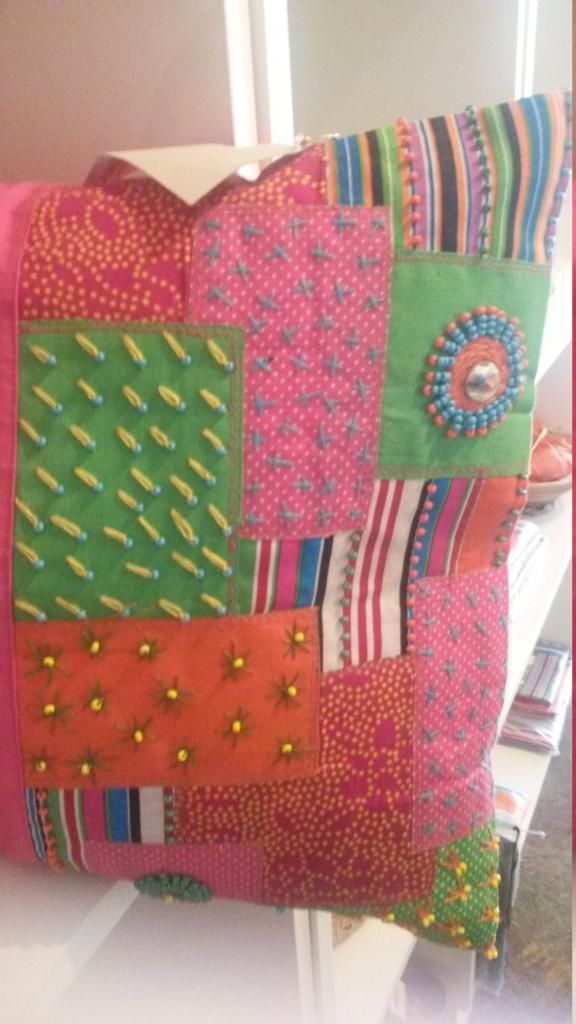 One of the
cushion covers in the lodge shop
The work that goes into these, proper hand, hard work, I don't think I'll look at mass-produced things back home the same way again. (Not that I won't buy them but it will make me think)
Dinner tonight was feta, mushroom and leek tartlet, main was fish which a sauce, roast potatoes and spinach. It was a beautiful piece of fish. Pudding was chocolate mousse. Three course dinners and breakfasts, I'll be going home the size of a house.
We're now officially a week through our holiday, scary how quickly it's going. Today is our last day in Madi a Thavah, tomorrow we drive to the Kruger for game viewing – exciting!!
We were going to go to a local game reserve today but the lady who runs the lodge explained that the place we were going to go to was very run down these days so she gave us directions to two other places.
The first was to a farm in run by a man named Otis, so we went to see him first and he was lovely. We even had to force him to take some rand for us to take a walk around his land. It was suppose to be R30 each, he said R60 in total, we settled on R25 each.
We took quite a bumpy walk around his grounds, the temperature was about 30c so very warm. Only when we got to the end of the walk did we see a sign warning us that leopard were roaming. Thankfully we didn't see any. Ooops.
We sat with Otis for a while afterwards and he gave us some home-made lemonade, it was delicious. He told us about how he built his house himself, and a bit about his life. He was a
fascinating
man and genuinely a nice guy.
We then drove and stopped for our packed lunch, again it was HUGE. Sandwiches, wraps, fruit, nuts, juice.
We tried to find the second place our host had mentioned but without any luck. So we headed back to the lodge hoping for some red meat for dinner (it wasn't!). Tomorrow we head to the Kruger National Park.
Odd to think that this time next week we'll be sitting in Jo'Burg airport waiting on a 10.5hr flight to London.