Just before I nipped off on holiday I was very lucky to win Champagne Breakfast for 4 at Orocco Pier in South Queensferry via their Facebook competitions. These are run quite regularly so if you're in the area I'd recommend giving them 'like'.
Winning!
I took along my friend Jen and Jamie, we had parked a fair bit away - lots of narrow streets and a Saturday morning did not make for easy parking, so we got a little look around before we went for breakfast. One thing about South Queensferry, it's lovely, the views are amazing and it's (to an outsider) a beautiful little town.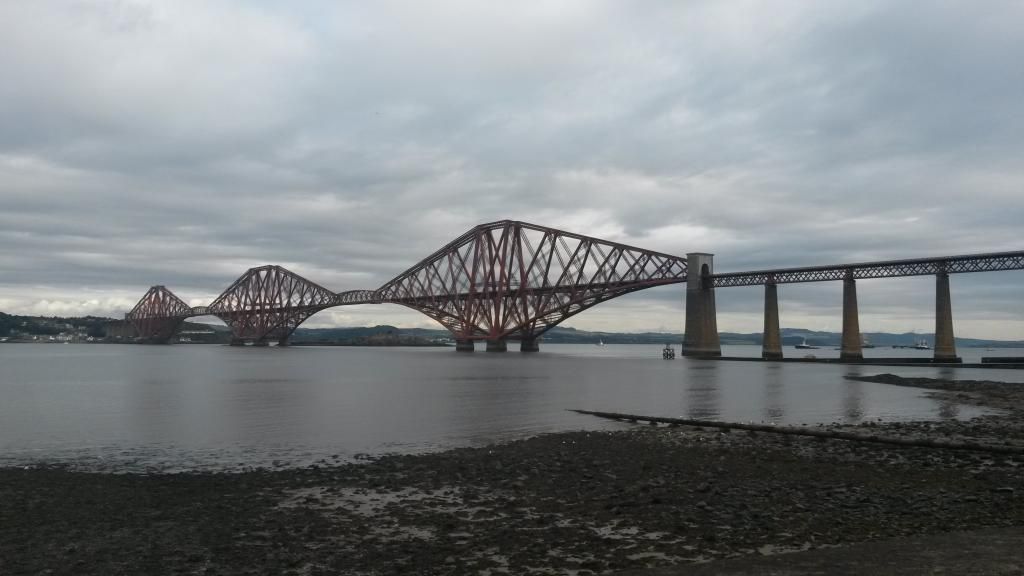 Forth Rail Bridge
South Queensferry





































































































Orocco Pier itself, to be honest, it isn't well advertised and if we hadn't been looking for it I would have walked straight past but I guess if you aren't a local you would have done some research before heading along and probably noticed it on Trip Advisor or the such.
The RRP price for the breakfast is £13.75pp, this gets you: a Glass of Brut Champagne and strawberries with your choice of full Scottish or vegetarian breakfast. Served with fresh orange juice, tea or coffee, toast, homemade strawberry preserve and marmalade.
The 'full Scottish' (which we all went for), had 1 potato scone, half a tomato, 1 sausage, 1 piece of black pudding, 1 slice of bacon, mushrooms, haggis and some crispy potato pieces. We were given two rounds of toast (4 slices in total), a glass of OJ but unfortunately no tea or coffee - maybe because it was a freebie or maybe the staff just forgot.
For the RRP of £13.75 I probably would expect more - none of us were asked how we wanted our eggs (is that too picky?), there wasn't an option of white or brown bread (again, it's the small things that matter!) and the lack of tea or coffee really bothered Jamie who hadn't had his morning fix yet.
I guess to sum up, even if I wasn't asked to personal review my experience. The restaurant is nice, there are some lovely fairy lights on the ceiling which I'm sure look amazing in the evening. And the view of the Forth Rail Bridge and the water would be a lovely spot in the right weather. But personally I wouldn't go out my way to eat their again, if I was in the area I'd give it another shot to see if it was down to the fact we weren't paying customers or if was standard service.
I know a few people who have had amazing wedding days at Orocco, so I wouldn't rule it out as a place to revisit, I would say for the price I could get a better breakfast elsewhere.