This months Degustabox contained 'Carnation Cook with It', which Nestle claim:
"Made using fresh milk, and with half the fat of single cream*, Carnation Cook with it! is a fantastic, low-fat cooking crème that's great for your favourite savoury dishes – from hearty soups and casseroles to pasta bakes and sauces."
So I decided to rustle up one of my favorite dishes 'prawn thing'. My friend Jen passed the recipe to me and over the time I've been doing it I've tweaked it and this is one of the final forms. Sometimes I add some spinach in at the end too.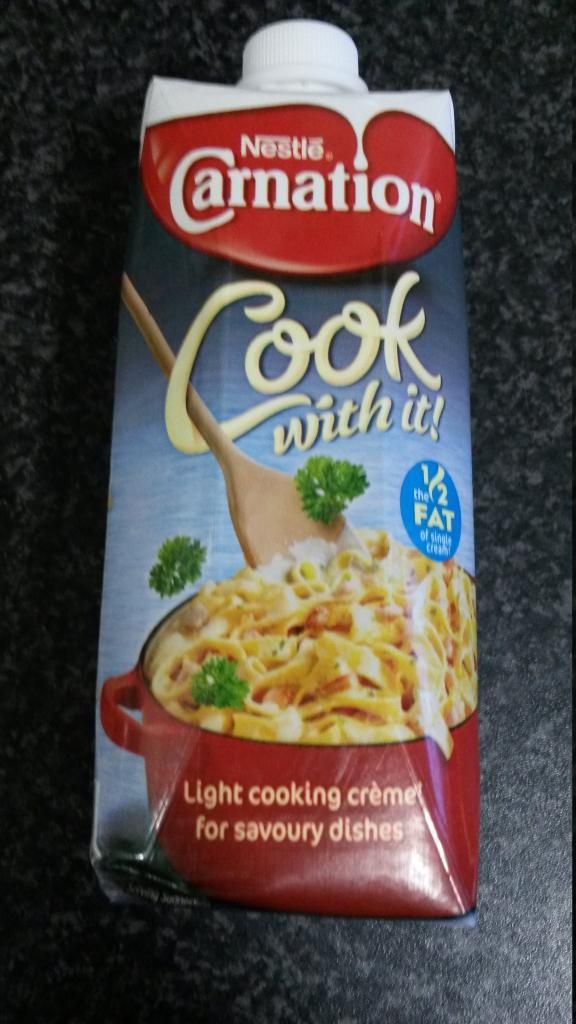 Ingredients: prawns (cooked or raw), 5-6 mushrooms, garlic (as much as you can handle), chilli (ditto), red onion, salmon (optional) and some sort of pasta/spaghetti, (I used chilli linguine that mum had brought me home from Rome) - we love a bit of spice.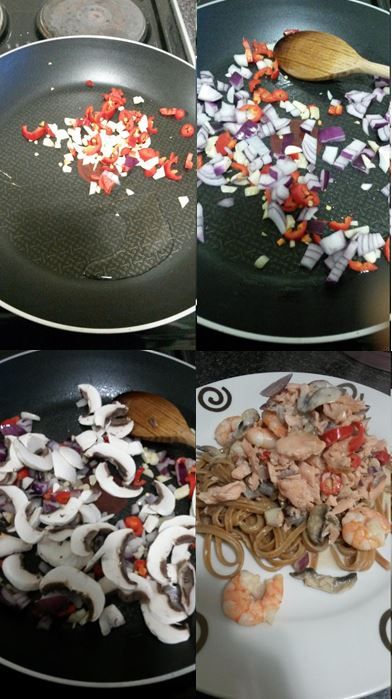 This is one of the easiest, but tastiest dishes. Great for when you get home from work and just feel like laying on the sofa. Just a few simple steps.
1. Pop a pot of water on the boil and add your chosen pasta to cook away whilst you do the 'hard work'
2. Gently fry the garlic and chilli - top tip, put the garlic in whilst the pan heats, it stops the garlic hitting the pan hot and burning straight off.
3. Add in the onion and gently fry until the onion softens slightly.
4. If you're prawns are raw add them now to give them a few minutes to cook, otherwise add in the mushrooms for 1-2 minutes, followed by the cooked prawns (and salmon if you're going the whole hog).
5. Let this cook for a further 2-3 minutes before adding your cream, usually I'd use Créme Fraîche but as we're giving the Carnation Cook with It a go I added this.
6. Lastly, if you're adding spinach now's the time, give it a minute or so before draining your pasta and mixing it through.
And the verdict on the Carnation Cook with It? I couldn't tell the difference if I'm honest. As this can be kept in the cupboard and has a good shelf life I think it's something that would make it's way into our monthly shop.

This months box came with two of these so I'm keen to try something new, Carnation have a few suggestions on their website but if any of you lovely lot have any suggestions do let me know.