We drove from Madi a Thava to the Punda Maria gate of the Kruger, it took us about 2 hours which was great as I was expecting it to take us A LOT longer. We drove from there down to our first camp, Mopani, which took us to 3.30pm ish (about 6 hours driving).
On our first drive through we
saw
:
Baboon, Elephants, Water Buffalo, Zebra, Giraffe, Water-buck, Harte-beast, Impala (hundreds), Tsessebe, Blue Wildebeest, Nyala, Warthog, Yellow Billed horn-bill and Cape Glossy starling. Not bad for a first game drive.
For dinner we popped to the local café and I had deep friend Camembert in filo pastry and a cheeseburger. Four people each having a starter and main plus two bottles of wine - £35.
Today we got up at 6am for a game drive. Yesterdays temperature peaked at 39c so 14c this morning seemed chilly – but so nice. The drive wasn't hugely successful – LOTS of elephant – which oddly enough camouflage very well into the bush. However we did see: Hippo, male Kudu, which are very rare, Springbok, which are very cute, Klipspringer, Crocodile, Africa fish eagle and a few other birds.
We're off out again this evening so lets see what we get.
Lunch was pizza & a chicken pancake thingy. The views were spectacular though and we seen massive 10ft crocs.
Tonight Jamie is cooking on the braai – our first one since we arrived – the meat looks AMAZING.
Tomorrow we drive to Satara camp with a few stops on the way. Hopefully we see a lion. Would LOVE to see a wildcat but doubtful.
So our evening drive got pretty exciting! We got a little surrounded by elephants and had to wait for them to make their way up. Once we drove down Jamie's mum spotted something moving and it was lion!! We had heard there were three in the area. I think I MAY have spotted two in the morning but I hadn't realised how camouflaged they could be so just thought it was nothing.
The one we did see was purposely strolling up to a heard of zebra, not set to attack but spooking them into running into some nearby bushes. We think the others may have been waiting there but we couldn't see. Hopefully tomorrow is ever more/just as exciting.
"

Where were you when the vote for Scottish Independence took place?"
Well we were driving from Mopani to Satara through the Kruger National Park with a stop off at Olifants.
We left Mopani at 6am and drove South to Lataba. Once we reached here we started some game viewing. We seen mostly 'everyday stuff' (elephant, zebra etc). We stopped off at Olifants Park which has the most amazing views of the river. There are literally no words to describe it and even pictures haven't done it justice. We
saw
hippos, baboons, and elephants. Including baby ellies playing in the water, so cute. It was just super.
We left Olifants to drive 52km to Satara and view some antelope and buffalo on the way. We were almost at the camp when we noticed folk had stopped and that's when we
saw
a cheetah just chilling under a tree. It was pretty far away so pictures were out of the question but we could see with binoculars.
We arrived at Satara camp around lunch time. This time we had a separate hut each, 2 beds and a bathroom. Plus a fridge outside and communal cooking facilities, although one hot plate, an urn and a sink between 30 huts was a bit insane.
We went to their 'restaurant' for lunch – which was basically a 'spoons. So we opted for a braai for dinner. The place had no cutlery, plates or utensils so it was paper plates and plastic cutlery. Not ideal but it did the job and the braai was brilliant.
Jamie & I were booked to go out on a Sunset Drive with one of the park guides and I'm so glad we did.
Black-backed Jackal, Side-Stripped Jackal, Genet (which looked a bit like Rudi cat), a HUGE heard of buffalo – about a hundred plus baby buffalo which didn't look as angry as the adults.
And the biggie – two lions stalking a buffalo then one chasing it down (it got away), it was amazing to watch.
We also seen a whole pride of lion, they couldn't have been closer, we could have literally reached out and touched them. I got to hold the back search light which was pretty cool.
I'm sure there's loads more but it's 10.10pm and after being up at 5.30am I'm a bit tired.
Gutted we didn't see wild cat after they were spotted two days in a row but never mind – there's still 3-4 days viewing left.
We were out about 6.30am today, and by 7.30am we were tracking leopard! Exciting! On our way out we were overtaken by some guy doing well above the 40kpm speed limit, only to come across him a bit further up the road almost crashing into a heard of elephant. Main thing I learned was never split a heard, this was what we had done, and I think he had separated a baby and mother – dangerous!!
Jamie then spotted some leopard tracks and we followed them along the road. It HAD been up a tree with its breakfast but some folk were hanging out their vehicle, spoiling the skyline and scared it off. We sat for a while and went back later but no luck. On our evening drive we saw some monkeys playing, hyena, crocs, two different lizards and sadly a tortoise which had died. We had another braai and tried wildebeest, it was fab.
Jamie and I sat up till 10.20 playing cards and having a few beers, scandal!!
Today we traveled from Satara to Pretoriuskop (140km), we stopped off at Skukuza on the way which was very much a 'tourist' camp and very busy.
On our drive this morning we were very lucky to see another pride of lion just at the side of the road , a baby hyena and my first white rhino. Each camp has a map you can mark where you've seen certain animals, because of poaching Rhino aren't marked. So 4 out of 5 of the 'Big 5' with just leopard to go.
We're in little huts again here but each one has an outdoor kitchen, kettles, toasters, cutlery, crockery and a massive bedroom, decent bathroom and huge bay doors. Really cute and nice.
Totally missing Rudi cat now and looking forward to getting home to seeing him. Not wishing our holiday away.
Our evening drive was good, we saw a family of Rhino, mum, dad and baby, very nice to see that in the wild. We tried to track a lion but no luck. We had another braai tonight, besbok skewers, some kind of sausage and Impala steak. Jamies mum made some stirfry veggies which made a difference to just BBQ'd veg.
Unfortunately we haven't seen any bush babies yet – gutted.
Up at 5.30am and out by 6.30am.
Our morning drive was pretty good, some hyena, rhino and Sable antelope. Beautiful creatures.
Tomorrow we head home, one last drive on the way down then 426km to the airport.
Tonight we have an evening drive with a guide. Still leopard left to complete the Big 5, and I'm holding out for wild cat but I doubt it. Our drive left at 6pm and it was already getting dark.
In all honesty I didn't like our guide, he went speeding about, almost crashing into Rhino, shinning lights into elephants eyes (which unless an animal is member of the cat family you should never do), scaring Rhino, wakening them up – he just wasn't great and I felt a bit uneasy when he parked beside an elephant which was clearly pissed off.
However we did manage to see, white mongoose, scrubhare, duiker, Genet, baby rhino, reedbuck, more hyena and lastly, we saw leopard! Just casually strolling down the side of the road as you do!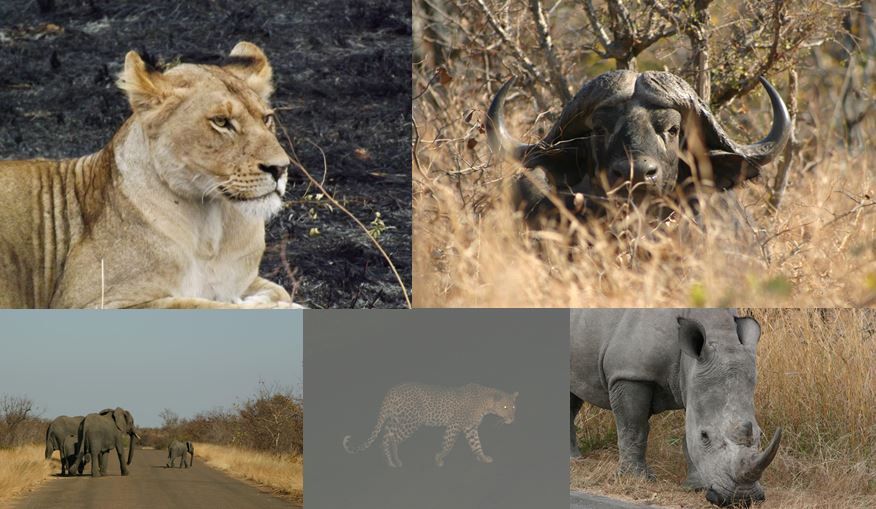 Big 5 - African lion, African elephant, Cape buffalo, African leopard, and White rhinoceros
Tomorrow we leave at 6am and drive to Berg-en-Dal for breakfast. From there it's 393km to Pretora and then onto Johannesburg. Our flight isn't until 9.50pm and we arrive in London at 7am and from there it's back to Edinburgh. So we should be back to Rudi cat about 1pm, if he's still speaking to us that is.
Our journey back was an interesting one. Jamie did a lot of the driving down and boy are they crazy!!! It was a little ropey at times. We stopped half way at a Wimpy to have some lunch, kind of miss Wimpy here it was the first that I remember here.
Once we reached Johannesburg airport we dropped off the car and our luggage and headed to the Inter Contiental where Jamie's dad treated us to lunch. It was nice to have fresh fruit and veg, plus two bottles of prosecco went down well. After that we went back to the airport to spend the rest of our spending money. Jamie got himself a Springbok t-shirt and I picked up the standard tea towel.
Home time
Our flight back was pretty decent, it was almost empty so we moved and had a row of 4 seats between the two of us. Both being short had it's advantage here and we were able to lay down for a bit and get a few hours sleep. I watched 'The Other Woman' with Cameron Diaz which was quite good.
Getting back into London took AGES. We'd just come off a flight into security but still had to go through three different check points and it took about an hour. Where as on the way down we didn't have to go through anything between Edinburgh and Johannesburg. Anyway, we got back into London to learn Alex Salmon had resigned and then got our flight to Edinburgh. I felt terrible for the business man sitting next to us, after a 10 hour flight at about 8 hours driving I'm sure we weren't the nicest folk to sit next too. I was glad to get back to Jamie's' parents and pick up the car though, it was worth it but it was a lot of traveling too.
I would absolutely love to go back at some point, and for future I would love to take our kids when their old enough to appreciate it. I think personally I'd go back to Cape Town first as there was so much we didn't get to see and do. Plus to have some more of their mussels in garlic & white wine sauce, yum!
Now how on earth do we top a holiday like that next year??
If you'd like to see more pictures from our holiday you can check them out on Flickr