Last Tuesday I was very fortunate enough to be heading along to Steak in Edinburgh for some free dinner after winning their 'SteakNShake' competition the week before.
Every Tuesday Steak run the competition via their Twitter page, all you have to do is come up with a milkshake flavour and they choose the one the like best from that week - simple.
My entry - mango & passion fruit.
Now I have to admit, this was actually my second time winning. My first time being last December when it had not long started, I'm sure it was 'chocolate orange' flavour as it was Christmas time. So anyone thinking you can't win. You can (go,go,go)
My first trip to Steak was my first 'proper' date with Jamie, as in dinner and drinks. So it was also a great reminiscence.
Every Tuesday between 5pm – 10pm feast on a 200g rump steak with fries and wash it down with a refreshing milkshake - yum. - £15.00pp
Before we went up for our meal, we headed to Beer & Skittles, it was my first time in, although I've been meaning to for AGES.
Huge sofa booths for when it gets a bit chillier
£10* beer pitchers with 'Beer & Skittles' beer made specially by Bellhaven.
(*you must check-in on Facebook to get this special deal)
I enjoyed Beer & Skittles so much I'm even thinking of inquiring as to whether I could reserve more than one booth for my 30th. It would be a fab place to meet for a few hours before folk tail off.
After a few, ahem, 3 pitchers of beer (there were three of us to begin with) .... we went with a bottle of Cótes Du Rhóne to finish off with, which was lovely as always.
Our server couldn't have been nicer, and we were even able to have our table pushed back 45 minutes whilst we finished our beer downstairs.

I couldn't recommend Steak or Beer & Skittles any more, especially for mid-week treats like this.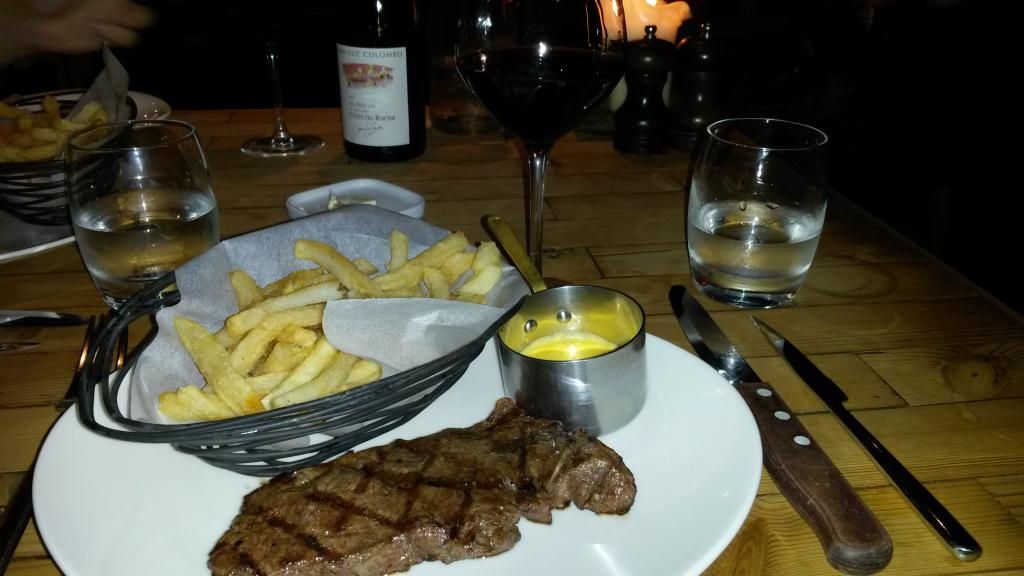 *Disclaimer - I have not been paid for this post and all thoughts are my own.