So I'm about to get a little soppy here:
Today marks two years since Jamie & I had our first proper date. Well as 'proper' as watching Hearts getting beat 4-1 by Celtic on a cold November Wednesday night can get.
Our first proper meeting (17 November), again at a football game where Jamie have 'conventionally' bought tickets next to my friend Charlene and I, in fairness it was a sold out game but it doesn't stop a lot of people winding him up about it. This meeting went less than smoothly though.
Jamie turned up right at kick-off, with a pretty girl (who now laughs a lot at this story) and I said about two words to him, it didn't really go the way I expected and the next day I gave him a 'get out of jail card' with a text saying if he didn't fancy a drink sometime it was totally cool - no reply, oh dear. I won't lie, I was gutted. Truth was Jamie had spent the night with a bunch of Irish mates downing shots of wine and was barely surviving the Sunday. The next day I did get a text along the lines of 'OMG. This weeks Walking Dead btw!' - I don't think something so simple has made me smile to much. So we spent a few days texting back and forth, and my boss asked me if I fancied his season tickets for the next game as he couldn't make it - free football, yes please.
So I invited Jamie along.
We met the following Wednesday in the Rutland for a couple of drinks and I'm not ashamed to admit I was nervous as heck. Not as nervous as Jamie who'd already had his first pint before I arrived. The chat came pretty easy, as we walked along to Tynecastle we talked about anything and everything, thankfully there was no awkward weather chat. The game itself, well a 4-1 defeat isn't great, when your freezing cold it's even worse.
After the game we bumped into my friend Claire who'd been there too, now that was a bit weird 'Oh hi Claire, this is Jamie.....'. So we walked from Tynecastle to Elm Row ready to part ways, Jamie said he'd text me, I wasn't sure he would, and then he leaned in for a kiss (soppy I know!). Then I uttered those three little words that Jamie will always remember as he walked away 'Is that it?'
Classy Susan, Classy!
So we had another cheeky little kiss and both went on our ways.
After that there was a lot of evenings of pizza and beer, a steak dinner, Christmas market, introducing Jamie to Illegal Jacks, and on Christmas Day it became 'Facebook official'. Second best present after my Hello Kitty onsie. Four months later Jamie moved in to what is now our flat. Was it too soon? Maybe for some people but for two years it's worked, very well.
Now we have our little addition Rudi (the cat) who is 8 months old and in the next 6 months we hope to have bought our first place together (or at least before Summer, BBQ anyone!?)
And if I now told you that all this came from one little message Jamie sent me via an online dating site what would you say? It's never been something I've been ashamed or embarrassed about.
It's given me someone I love madly, who makes me so happy and who I want to share my life with, how can that be frowned upon?
Online dating has become one of the most popular ways to meet someone, it gives you a chance to get to know someone before you meet. No drunken chat in a noisy club, no awkward silences as you already know what to chat about, things you have in common. We spent about a month chatting on POF, Facebook and text so when we meet it wasn't weird (still nerve-racking though), but for me it was one of the most natural "first" meetings I've ever had.
We tend to just laugh about the very first one now.
Amongst Jamies' message I did put up with the usual rubbish. The multiple messages from the same guy using a different sign-off name, the downright creepy 'You look like my sister?' as well as finding boys I knew fine well weren't even single.
There was a brief relationship that almost put me off online dating for life, actually it almost put me off men for a while but giving it 'one more bash' resulted in this.
Jamie's message however, it did stand out, he'd made an effort. It wasn't just a 'Hey, how are you?'. He introduced himself, he chatted about our shared interest in The Walking Dead (& other TV shows), he told me about his latest holiday in the Alps and asked how my holiday in Turkey had been. He'd taken time to actually read my profile and put together a message and that intrigued me, it made me want to get to know him. As well as the fact I was extremely attracted to his cheeky face!
In truth this picture had also made him message me: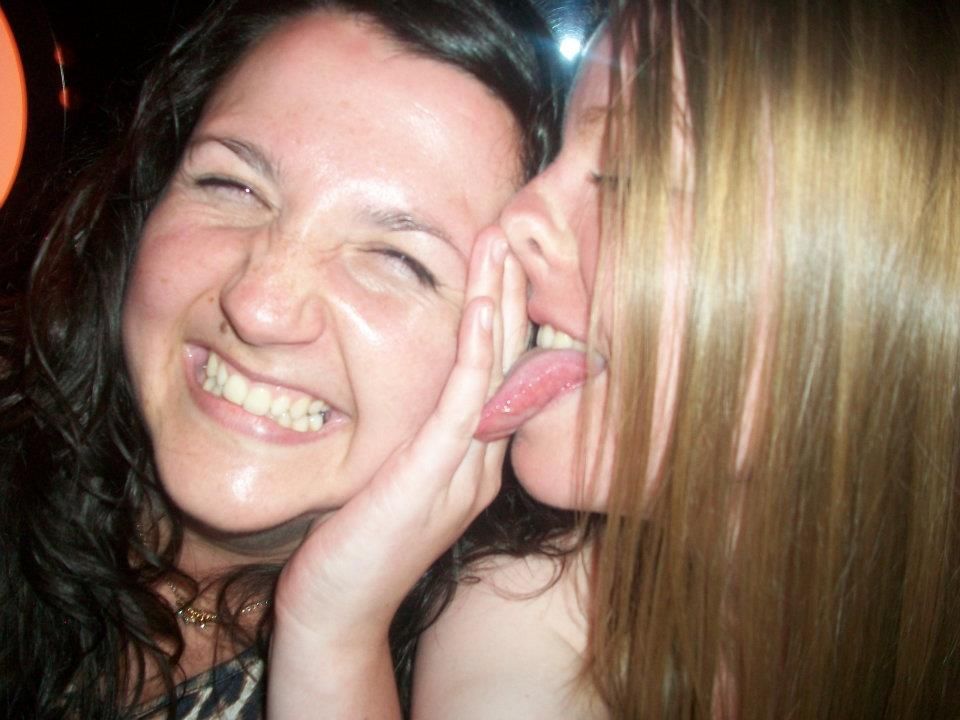 I guess in a way I'm trying to relay a little message without sounding up my own backside - never give up. Take a chance, not everyone online dating is a complete fruit-loop (there are some though), take the time to get to know someone before meeting.
If there's a *spark* go for it, you just never know.